The following is North alumna Juliana Wojtenko's response to our questions about her college decision process, the student life and culture at Princeton University, and more.
Wojtenko graduated from North in 2019. She is a part of Princeton University's class of 2023.
I actually only got into two of the seven schools I applied to; I applied early to Rutgers and then regular to Princeton. I knew that I really did not want to go to Rutgers. My entire family had gone there from my grandfather to my aunts and uncles, both my parents, and my older sister is a Junior there now. 
It was the default expectation that I would also go there, but Rutgers was absolutely not for me. I definitely prefer being in a smaller school on a tight campus. I also thought I would go out-of-state for college, which could have been better for my independence and growth as a person, but that wasn't really an option when decisions came in. 
Of course, Princeton is Princeton and it has its own prestigious appeal, which was definitely a factor. But I wasn't sure if it was actually a fit for me until I went to an admitted students event on campus, where I got to attend a ton of open houses and meet with faculty and other students. Seeing all the resources and support available at Princeton is what⁠—in the end⁠—drew me to the school.
I feel like I'm adapting pretty well. Adjusting to university life is a process, and first semester was a little difficult to get used to. But I am very happy with my choice. I took the first semester to really explore and settle into myself and the new environment. At the beginning of the second semester, it really started to feel like home. 
Photo Credit: princeton.edu
The resources are amazing. The pace of classes is challenging but much more manageable than I thought originally. Every professor I've had so far is so eccentric and fascinating. And there's a lot of free stuff which is pretty nice.
I sometimes get a little homesick, but I'm so fortunate that I'm so close to home. I have a lot of friends that live on the other side of the country or are international students who don't even have the option to go home for some breaks, let alone during a weekend. Because of that, I feel like I don't really have the grounds to be homesick. But the Princeton environment can be a lot, sometimes, so I'm lucky I have an escape. Plus my parents are very respectful of my independence, even though I'm so close to home, so it still feels very separate for me. 
I will say that I do miss WW-P and the community that I had there. Freshman year is a little difficult socially⁠—trying to find your place with extracurriculars and making new friends; it's a little hard to get used to since senior year at North I had really settled into the groups I was in and my friends there. 
I really miss the music and theatre departments at North. I'm still involved with music and theatre at Princeton, but the community built within North music is very special to my heart, and that has yet to be paralleled in my college experience. Of course, I miss The Knightly News and everyone in it as well.
Photo Credit: finaid.princeton.edu
My favorite part of Princeton is the people. The student body is made up of people from across the country and all around the world. Everyone has a unique story and I love meeting and talking to so many different kinds of people. 
There's a lot of free food on campus that I can really get behind. The course offerings have a super broad spectrum of classes and I've had the opportunity to take a lot of really niche classes that are SUPER interesting like "photojournalism in US and Russia" and "Sex, politics, and religion on the comic stage." My Russian professor is a delightful woman who is my college mom. 
I love the music and theatre departments of course, and the physical Lewis Art Complex with floating practice rooms is my favorite place on Earth. Also, the bottom floor of the Firestone library makes me feel like a bougie mole. 
One of the hardest parts is keeping up with the reading. As a humanities major (what that is I don't really know), most of my work for the majority of my classes is reading 100ish pages or more every day, which I love, but it is pretty brutal. Writing seminar (required for all freshmen) also made me feel really insecure about my writing and forced me to transform the way I think about academic writing which was pretty rough. 
Also, trying out for clubs and groups at the beginning of first semester was pretty tough. You want to continue to do all the things you love and excelled at in high school, but so does everyone else, so it's difficult to get rejected from things you love to do and that you're good at, just because there are so many people who are trying to do the same thing.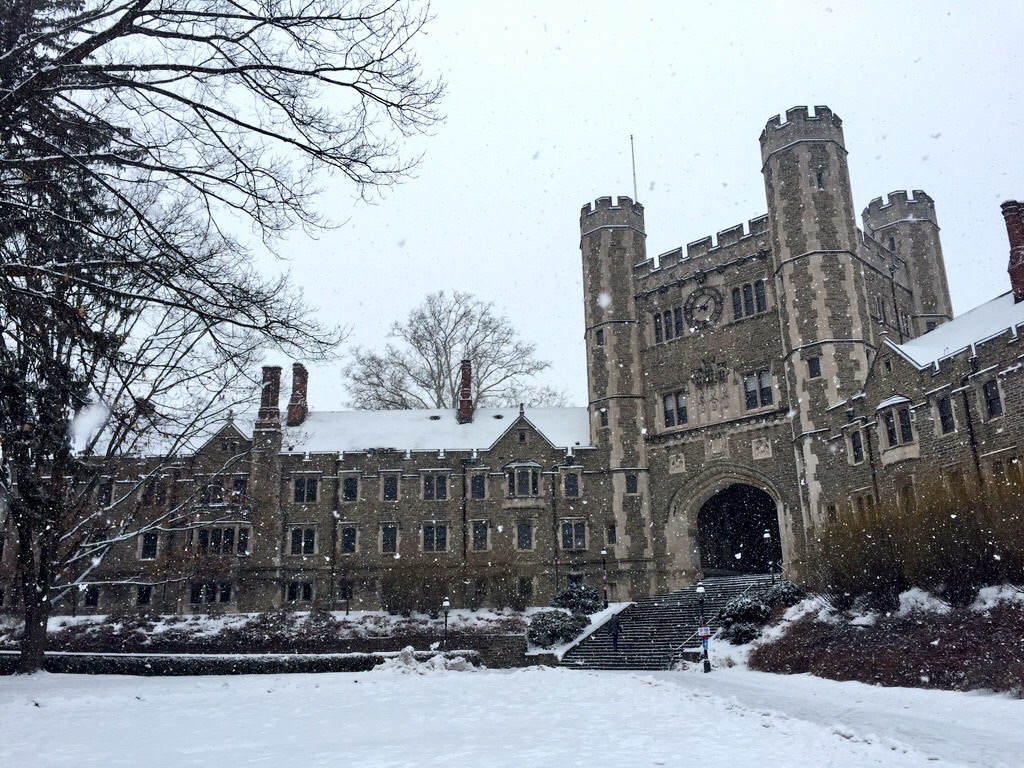 Photo Credit: apply.princeton.edu
I feel like elements of the culture at Princeton are similar to WW-P. Everyone is really focused and dedicated to academics where I admire, but it's really not that competitive (at least from my personal experience). There's this mutual understanding among all the students that hey, Princeton is hard, so we're all kind of in it together. Most people are also very involved in extracurriculars and campus life so we're all pretty busy. Because of this, most of the downtime people have is during meals. 
So, the main way to get to know someone or hang out with someone is over a meal, which I think is pretty nice. Otherwise, the majority of the student body is very dedicated to studying, so study groups or short study breaks are the other opportunities for social activities. 
The weekends are a slightly different story.  I can definitively say that Princeton students know how to have fun, and this takes a lot of different forms: from going out to eating clubs or putting together a 1000 piece puzzle with friends at 2 am. All in all, I think the Princeton environment can be pretty high stress, but it is also super supportive, which I am very grateful for.