The following is North alumnus Anuj Dutta's response to our questions about his college decision process, the student life and culture at Georgetown University, and more.
Dutta graduated from North in 2019. He is a part of Georgetown's class of 2023.
When I visited Georgetown after I got in, I felt at home. It sounds cliché, but everyone around me seemed so happy. The staff took me on a personal tour (even though I just signed up for a normal info session, I told them I got in and they showed me around separately), I got to talk to some of the teachers from the chemistry department, and I even sat down with my would-be dean. 
Overall, the atmosphere was super welcoming and I knew I wanted to be a part of it. They also have a strong EMS program on campus, which was something I have been a part of in Plainsboro. Of course, the D.C. area is great, and there is a great mix of having a separate campus to call home as well as access to a big city.
I couldn't be happier with the decision I made. I'm loving not only the school and the people I've met, but also the opportunities Georgetown offers (especially in research). The classes are intriguing, and the professors seem to care. Being premed, I expected a competitive environment, but so far it is pretty relaxed!

Photo Credit: cs.georgetown.edu
Being pretty close to home, I don't really get homesick. My parents visited around 3-4 times my first semester, and a lot of my friends went to schools nearby. I did miss being able to drive, as well as my other friends from WW-P, but I guess that's just a part of going off to college.
My favorite things about Georgetown are the opportunities and the people. Being in D.C., you get to witness so many amazing things. I met Andrew Yang, as well as witnessed other political speakers, Mark Zuckerberg, and more. Sports are also pretty popular here. It isn't the main attraction, but it's nice to have. We won NCAA men's soccer in the fall, but most kids are into the basketball team. There's a lot more I'd love to say, so if anyone has questions feel free to reach out!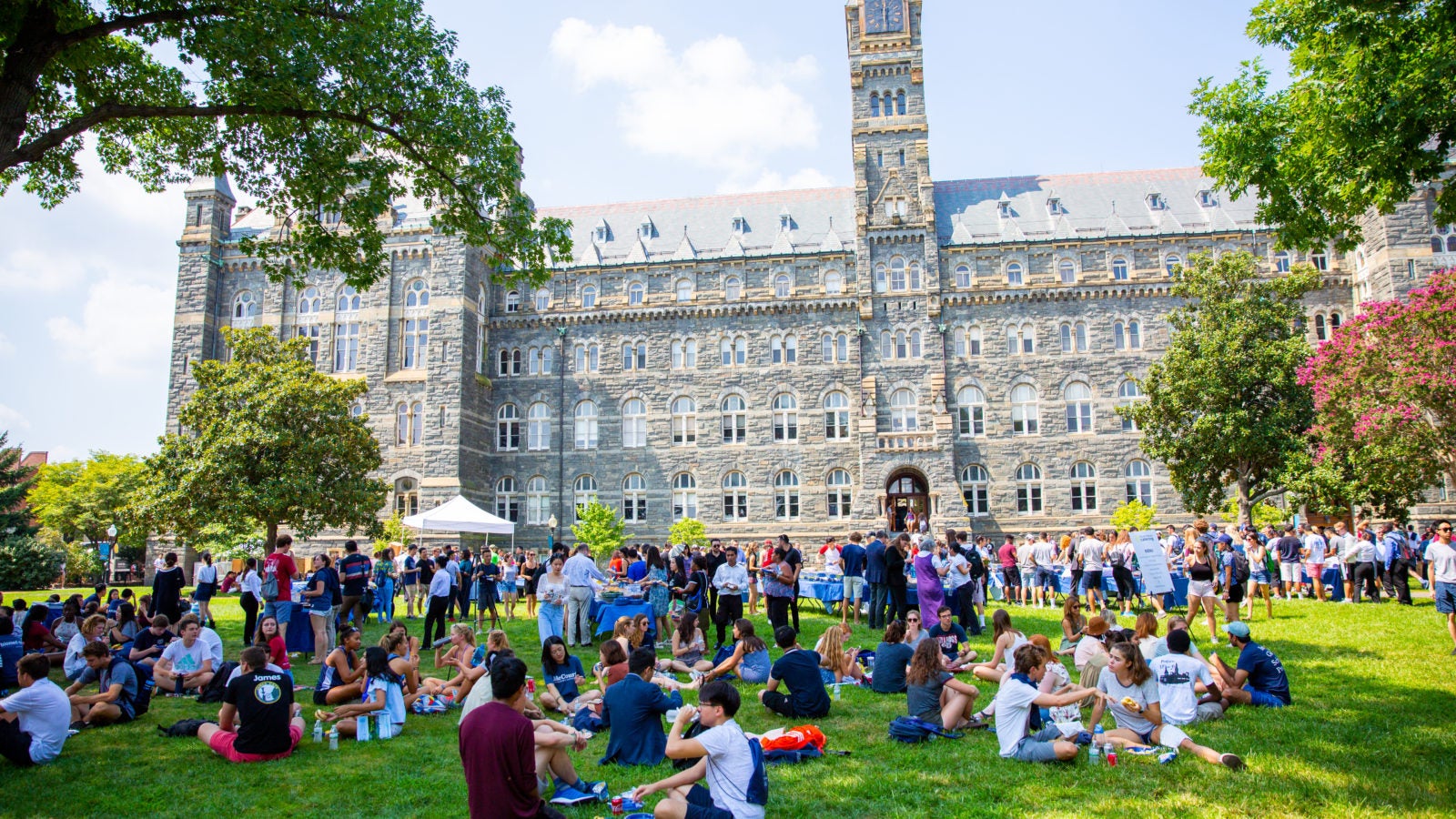 Photo Credit: georgetown.edu
The hardest part about attending Georgetown was definitely the transition from high school to college. I feel that the WW-P culture prepares students for the college environment, but building an even stronger work ethic is extremely important. As a STEM major, Georgetown only accepts math AP credit, so I had to retake both chemistry and biology. I was lucky enough to have learned the material before, and I could focus more on managing my time and getting involved with other activities.
Another difficult part of Georgetown is definitely the core requirements. Every school in Georgetown (Business, College, Nursing, Foreign Service)  has its own core requirements, with a few that overlap throughout the school. I am in the College, and there are a lot of requirements. I believe there are a total of 10 courses, and some of the courses are notoriously difficult.
If anyone is attending Georgetown this fall or thinking about it, don't hesitate to reach out! I'd love to tell you more about the school and answer any questions. You can email me at akd65@georgetown.edu.